Theatre/Show/Headliner Sideman
Dave's many years of experience include work as a sideman with headliners ranging from Martha Reeves & the Vandellas, legendary jazz vocalist Nancy Wilson, Bob Hope and The Fifth Dimension to The Vancouver Symphony Orchestra. A "pit" musician respected by conductors in the US and Canada, Dave is a multi-instrumentalist on the following instruments: guitars, electric bass, mandolin, ukelele, and banjos. Dave is a member of both Canadian and US musician unions and a veteran of television/movie sets with TV work that includes The Oprah Winfrey Show. Major festivals include Lollapalooza, The Vancouver International Jazz Festival, Milwaukee Summerfest, The West Vancouver Harmony Arts Festival, Taste of Chicago and more. Dave spent nearly a decade as musical director for two Chicago dinner theatres. Contact us to contract Dave for your upcoming production.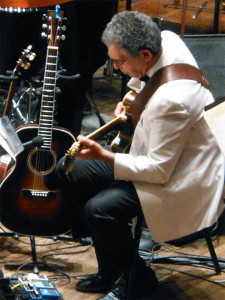 Dave Ivaz Music Lessons & Combo Programs
Acclaimed guitarist & BC Certified Music Teacher/Band Director Dave Ivaz unites over two decades of performing/touring with international celebrities, on Broadway Shows and at major festivals like Lollapalooza with decades of teaching expertise.
Our performance-driven, time-proven methods make learning music fun, build confidence and skill, and inspire excellence on and offstage. We offer private lessons on guitar, bass and plectrum banjo, instruction in theory and Dave's Easy Improv Method combo programs. All combo programs include live performances in actual venues where students can hone and "strut" the skills they are learning. Our combo programs are held on Saturday afternoons, at venues near the participants' homes.
Rock Club & Jazz Club Programs
Rock Club focuses on rock & roll and R&B music. Jazz Club focuses on jazz standards and jazz improvisation. All musicians and vocalists are welcome! Both programs include instruction in valuable on-stage tips and tricks from Dave designed to help students become more polished and confident performers, a live venue booking (actual bookings vary) to perform at, and a recording of each week's rehearsal/jam session to practice with. Rock Club and Jazz Club programs also include a healthy snack for all participants!
Contact us today here, or learn more about our individual lesson programs, Rock Club and Jazz Club Combo programs, Rock Club Camps and more at daveivazmusiclessons.com